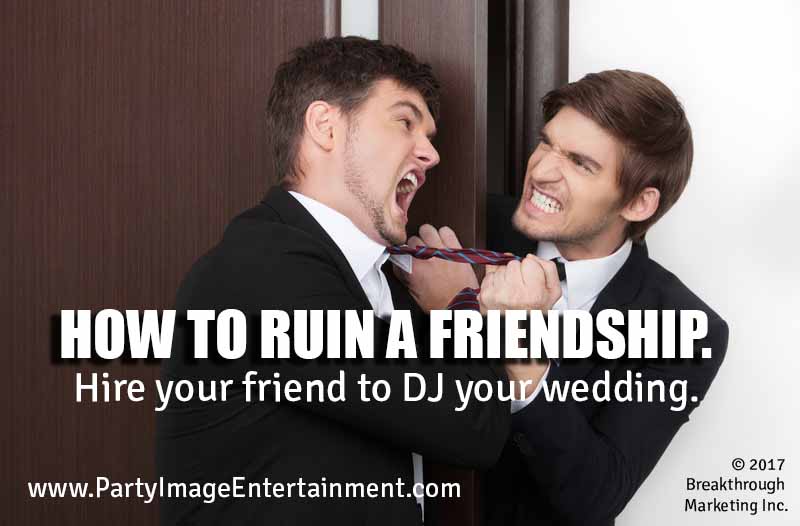 Do you value your friendships? Whatever you do, don't let a friend DJ your wedding. It's a recipe for disaster, unless he or she is an experienced professional with at least 50 weddings under their belt.
As regular readers of this blog know, entertainment makes the event. It is the great equalizer for brides on a budget.  Great entertainment compensates for the need for most of us to moderate our desires when it comes to which package we select from our caterer, photographer, and florist.
But if the entertainment is legendary, your reception will be legendary, too, even if you had to cut back a little on other areas of your wedding.
Don't let a friend DJ your wedding!
Here's your risk, and it's a big one: you try to cut corners by having a friend play some tunes off of his iPod at your reception. Not only will you put your friendship at risk, you put your entire wedding reception at risk when your guests start to leave early.
DJing involves far, far more than just playing music. In the hands of professionals like Party Image Entertainment, it is an art form that energizes and entertains your friends and family.
We know how to read an audience and play music that packs the dance floor. Even more, we know how to engage even your shy guests to move them from their seats to the dance floor.  It's done so naturally, but the talent to do that was honed by raw experience.
Your friend just doesn't have that experience. Nor does he have the experience to MC a wedding reception.
Announcements have to be timed perfectly. They need to be coordinated with the rest of your wedding vendors. A wedding reception doesn't happen in a vacuum.  There are a lot of moving parts. Our skilled professionals are the quarterbacks to pulling everything together so your party flows like clockwork.
And there are practical reasons professional wedding entertainment is priceless. Party Image Entertainment offers the professional pre-planning, the professional lighting options, the professional microphones and cutting edge sound equipment, and the professional photo booths that  transform ordinary receptions into extraordinary ones.
Two out of three brides hire a professional DJ company
Your friend just can't bring these resources to the table. This is why two out of every three brides in the U.S. hires a professional wedding DJ company, according to a massive survey of 18,000 brides and grooms by The Knot.
We've heard way too many horror stories from people who let their friend DJ their event. Their friend only played his favorite music. Few people danced. The equipment was terrible. There was no first dance. The cake-cutting was ruined. No one could hear the toasts because the microphones and speakers were horrible. Speaker feedback was distracting. The party ended an hour early.
Isn't your friendship worth more than this? Don't put him in the position of disappointing you.
Even more, isn't your wedding reception worthy of a legendary party? Yes, it is, and the key is the entertainment. Entertainment makes the event every time. Learn more about how Party Image Entertainment can make your wedding dreams come true, while saving your friendships!