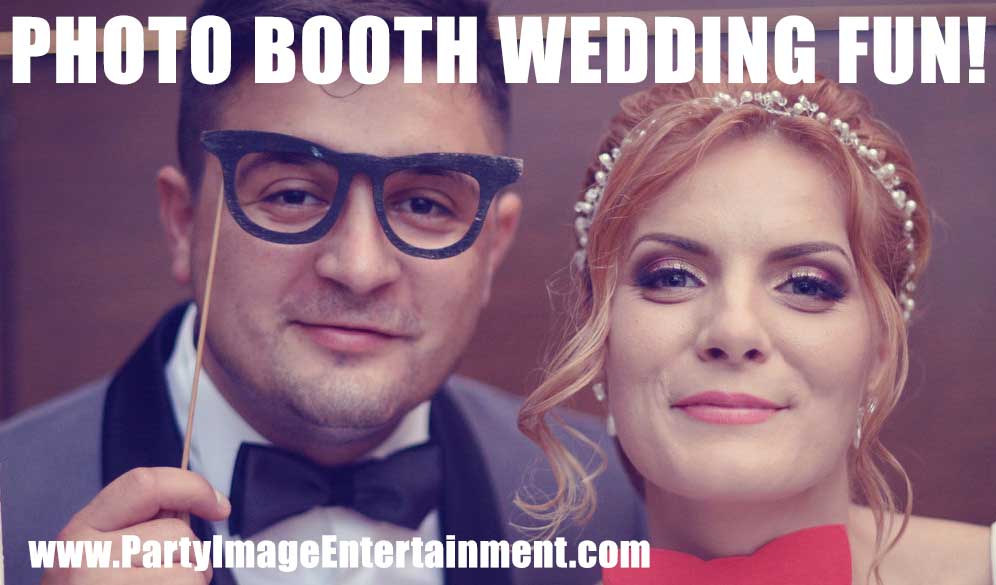 There are two types of wedding receptions:  regular ones and Photo Booth ones.  Photo Booth wedding fun always transforms a reception from a regular affair into something very special.
As a Sacramento based DJ company that specializes in Northern California wedding receptions, we marvel at the almost magical pull Photo Booth has on your guests.  They won't stay away from it.  They CAN'T stay away because Photo Booth wedding fun is so darn irresistible!
Photo Booth wedding fun!
You'll have guests at your reception who are extremely shy when it comes to getting up on the dance floor.  They're just not comfortable dancing for a variety of reasons.  And yet ultimately they'll have more fun if they get out of their chairs during the course of your party.  Well, Photo Booth is the perfect antidote to shy guests
It's fun.  Inhibitions melt away in an instant as they get caught up in the goofy fun Party Image's Photo Booth offers.
Sacramento Photo Booth company
Our fun props are guaranteed to create delightful photo ops.  Memories will be created in an instant and preserved forever by this Northern California Photo Booth company.  These are the pics that will flood social media in honor of your wedding celebration.
There's another reason Photo Booth wedding fun will transform your wedding reception from a regular affair into something very special:  it helps to keep the dance floor packed!  When shy guests aren't in the Photo Booth, they're on the dance floor since Photo Booth has melted away their inhibitions.
It is truly a beautiful thing to behold.
Party Image Entertainment creates the perfect "organic" party by the fusion of  DJ wedding entertainment and Photo Booth wedding fun.  When your guests aren't dancing, they're at the Photo Booth.  When they're not at the Photo Booth, they're on the dance floor.  It all happens so naturally, so organically, so to speak, in the hands of our professional entertainment team.
Be honest, your wedding reception IS special, and you should strive to realize your dreams with the proven entertainment potential of Photo Booth.  Let Party Image Entertainment transform your wedding dreams into an evening of magic!